By: Daniel Thwaites Sr. and Tommy McKinnon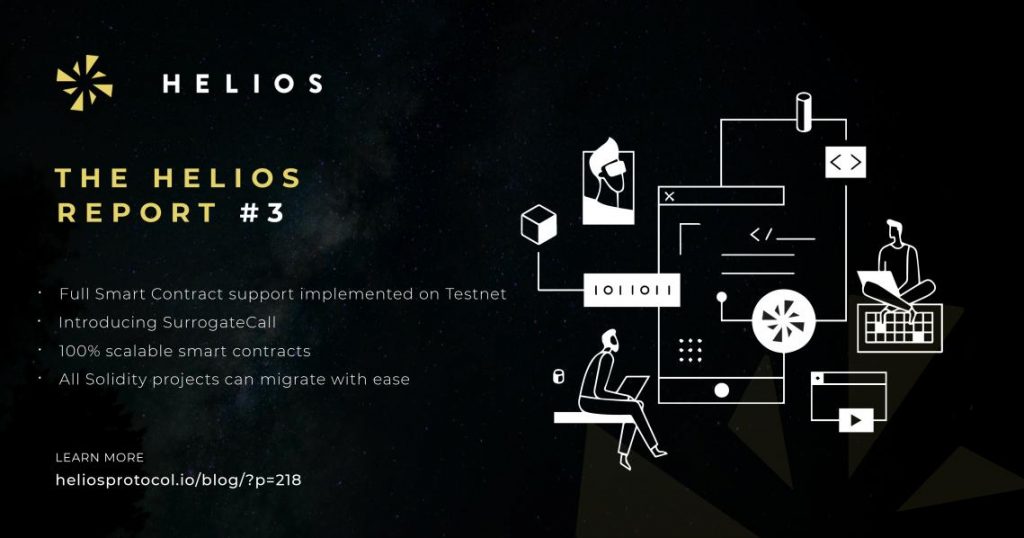 Gooooood morning/evening/night everyone. Welcome back to the Helios Report. This being the third update, we'll call it #3 🙂 We have some more big big big smart contract news from this past week to share with you and some pretty interesting things happened outside of Helios Protocol (yes, there are other projects out there) in the Cryptosphere. Read on for some linguistic treats…
What's What in the Heliosphere:

Smart contract coding continues to be the main focus as we near its completion. Progress has been simply amazing! We have these killer updates below that we are sharing today so buckle up for this cutting edge smart contract wow!

Our dev team has finished implementing full smart contract support on our Testnet. We are now in the process of creating a full suite of tests that will test every aspect of the new virtual machine code to ensure the highest level of reliability. Once all of these tests are finished and fully passed, we will open the testnet up to the public where they can deploy their Solidity code and test their DApps. Depending on the results of the tests, the public Testnet for smart contracts will start in approximately 2 weeks.

Shortly after sending the Testnet public, we will focus on writing and publishing documentation on the Helios Virtual Machine, and our coding standards such as the Helios Delegated Token. We will also update our online wallet to support our new token standard so that it can send, receive, and see the transaction history of tokens running on Helios Protocol.

We are proud to introduce a brand new opcode, created specifically for the Blockchain infrastructure of Helios Protocol, known as a SurrogateCall. This new opcode allows your DApp to load arbitrary code from any other smart contract, and add that code to a new transaction, and send it to any recipient. This special kind of transaction will execute the code when it is added as a send transaction to the sender chain, and will execute again once it is added as a receive transaction to the receiver chain. The developer can decide which part of their code is executed on send, and which part is executed on receive, as seen in the following example:

This kind of functionality is especially useful for tokens on Helios Protocol because it allows the balance of each token to be stored on the individual Blockchains of the users of the network, instead of being stored on the smart contract chain. The obvious benefit is parallelization: sending tokens from chain A to chain B only affects those two chains, while any transactions involving any other chains can occur simultaneously. With this, we have realized 100% scalability for smart contracts and DApps built on Helios Protocol.

In addition to this new functionality, we are happy to announce that Helios Protocol will still support standard Solidity code up to Version 5. This includes the newest opcodes from the Istanbul Fork of Ethereum. So, if you have a DApp already programmed and deployed on Ethereum, don't let this new functionality scare you! You will be able to copy your current code directly over to Helios Protocol with ease.
This Week in Mass Adoption:

Another week has passed and the Blockchain has once again been utilized by some heavy hitters in various industries around the world. Here are some stories that show that mass adoption is well on its way to becoming mass reality. In the financial sector there was news from Kookmin Bank of S. Korea, Hong Kong-based Diginex, and mutual fund guru, Vanguard. UNICEF is going blockchain, Mutual of Omaha jumps on the bandwagon, and gold is coming to a Blockchain Down Under. Read on for details…

As reported by The Korean JoongAng Daily, South Korean bank KB Kookmin Bank, at the Enterprise Ethereum and Revolution in Banking Summit, announced they have switched their IT infrastructure to that of a cloud-based system and are turning to the Blockchain. Hur Yin, CEO of the bank, said, "I believe that the financial sector will be able to provide innovative services through Blockchain."1

A pretty big story from CoinDesk was put out this week about the mutual fund bigwigs, Vanguard. They reported that Vanguard has partnered with Symbiont, a Nasdaq Ventures-backed Blockchain company that "is the market-leading smart contracts platform for institutional applications of Blockchain technology"2. Together they aim to build a trading platform for the currency market, which has a $6 trillion valuation.
According to a press release from UNICEF, they have now begun to accept donations in cryptocurrency. The newly formed UNICEF Cryptocurrency Fund will accept its first donation from the Ethereum Foundation and the funds will be awarded to "three grantees of the UNICEF Innovation Fund"3 , Prescrypto, Atix Labs and Utopixar, "which work in the areas of prescription tracking, matching investors and those needing funding, and community tokens and engagement"3.
Diginex, a "digital asset financial services and advisory company"4, has reported they have officially joined the Blockchain Alliance. They are the first Asian company to join in the fight against "criminal activity involving cryptocurrencies and Blockchain technology"4. The Blockchain Alliance was founded in October 2015 by the Chamber of Digital Commerce and Coin Center and is joined by industry heavies Coinbase, Bittrex, Ripple, and about 100 more. Their mission, as per their website, is "To provide a forum for open dialogue between industry and law enforcement and regulatory agencies, in order to help combat criminal activity on the Blockchain"5.

RGAX, who "partners with carriers and entrepreneurs to fuse industry expertise and outside capabilities"6, has reported on their newsroom blog that they have teamed up with insurance giant Mutual of Omaha to tap the Blockchain for reinsurance workflows. RGAX, a branch of Reinsurance Group of America, said they "used test data to trial the automation of reinsurance transactions using distributed ledger technology (DLT) and smart contracts"6.

The Perth Mint announced that InfiniGold, a fintech startup centered around the digitization of precious metals, will launch the Perth Mint Gold Token. $PMGT is an ERC-20 compatible token backed 1:1 by GoldPass certificates issued by The Perth Mint. Their media release can be read here.
Hey, Did Ya Hear That…

…the IRS has finally issued additional guidance on some cryptocurrency tax "treatments" and "reminds taxpayers of reporting obligations" once again? The full release can be read here. Zzzzzzz

…CFTC Chairman Heath Tarbert said Ethereum is a commodity? Well, ummm, yeah!

…the Sacramento Kings have double-teamed with Blockparty, to bring rewards via the Blockchain to their predictive app aptly called, Call the Shot? That's a slam dunk!

…The Kingdom of Bhutan will issue an e-wallet to every resident for their new national cryptocurrency, Prizm? Residents will be able to mine Prizm. BhuYA!

…Kenji Manno, a Japanese billionaire and founder of Bitcoin Japan, is offering free banking services to Cryptocurrency Exchanges through the Fusion Bank? You can take that to the…well, you know.

…the SEC rejected the ETF application from Bitwise? No surprise.

…Bitcoin trading volume jumped 800% on Bakkt? Somewhat of a surprise.

…Overstock opened a Blockchain R&D facility in Ireland? Boom!

…UBS, a Switzerland-based financial company confirmed it has started using the we.trade platform. The company said trading went live in October. Boom shakalaka!

…the SEC filed an emergency order to stop the sale of Telegram's $TON token? Oof.

…Visa, Mastercard, eBay and Stripe have joined PayPal in the unfollowing of Facebook's LibraCoin. The five were supposed to be founding members of the Libra Association. Maximum oof.
They Love Us, They Love Us Not:
Discord: 12,005

Twitter: 7392

Russian Twitter: 33

Latin American Twitter: 207

Filipino Twitter: 7

Telegram: 4660

Facebook: 405

Latin American Facebook: 632

Cuff Links:

Website:

Telegram:

Discord:

Facebook:
https://www.facebook.com/HeliosProtocolPlatform/

Uptrennd:
https://www.uptrennd.com/signup/NTg1OA
Instagram:

https://www.instagram.com/heliosprotocol/
Reddit:

https://www.reddit.com/r/heliosprotocol
Bitcoin Talk:

https://bitcointalk.org/index.php?topic=4317054.0
Github:

https://github.com/Helios-Protocol
Atomars:

https://atomars.com/trading/HLSETH
https://atomars.com/trading/HLSBTC
https://atomars.com/trading/HLSUSDT
qTrade: