By: Daniel Thwaites Sr. & Tommy McKinnon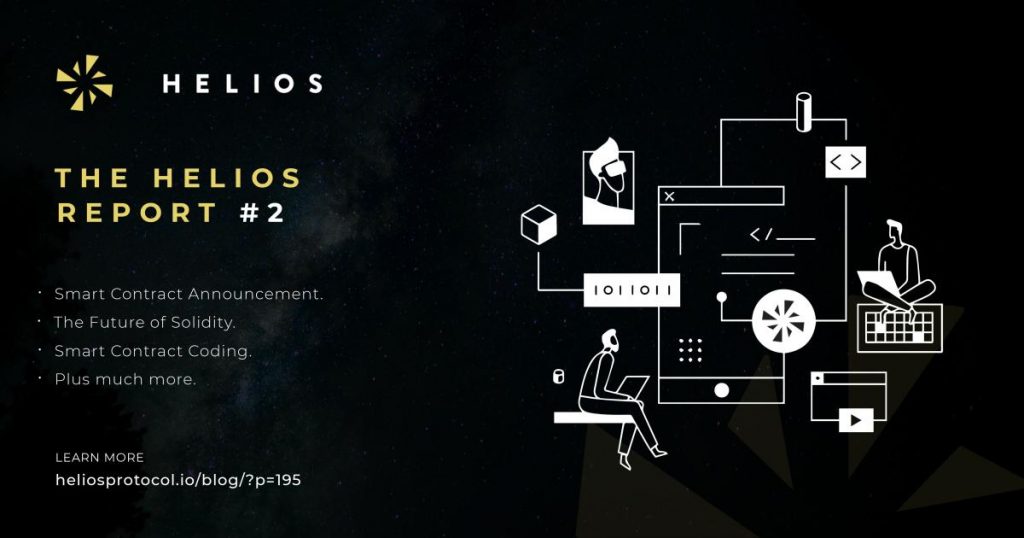 Hello and welcome to the second installment is the Helios Report, your weekly dose of everything Helios Protocol and more! This past week we have been working our unique smart contracts. This remains our principal focus as we near completion. As usual, the Cryptospace has been a hoppin'… read on for more…
What's What in the Heliosphere:
This week we have implemented more of the new delegated token standard. This is a Solidity based token that runs on Helios Protocol that stores smart contract balance on the sender and receiver accounts rather than on the smart contract account like Ethereum. This allows tokens to be sent from one chain to another without having to modify the state of the smart contract chain, which results in 100% parallelized smart contract executions. Basically, smart contracts don't need to execute on their own chain anymore. The smart contract code can be accessed by third party chains and executed on their own chains in a way similar to a delegate call on the Ethereum Network. Owing to that, we have tested and sent tokens from one chain to another using this new delegated token standard. We will continue to test this further before deploying it to the Testnet for everyone to try.

Another huge thing to note, we have been modifying the Solidity Compiler to add new functionality required to implement the new delegated tokens. This new functionality will be 100% optional for DApp developers. Meaning that Helios Protocol is fully backwards compatible to classic Solidity. But developers can use our new compiler to gain access to new features not available on classic Solidity. Yes you read that right, NOT AVAILABLE on classic Solidity! This is the next level, right here, right now, and you are here to witness it!
This Week in Mass Adoption:
This past week has shown to be great for the furtherment of mass adoption. There has been some big announcements from some large companies just dipping their toes in the Blockchain pond. There was great news released for the Agriculture sector from Bayer Crop Science, which will heavily improve the industry. Other important announcements that could have huge impacts on the cannabis industry and voting in Uruguay. These could change the way things are tracked forever! Also of note this week was news from CMBI, IKEA Iceland, Morningstar Credit Ratings, Wal-Mart, and a new Blockchain Alliance has been formed in Japan.

Headquartered in Monheim, Germany, Bayer Crop Science is dedicated to innovative solutions to Agricultural demands. They have proved this once again by signing a letter of intent with Alibaba payment cohort Ant Financial (Alipay) to track agricultural products via the Blockchain. This will help protect farmers and consumers from lost shipments and out of date products. Plus, in the event of a contaminant outbreak, the source, once identified, can be traced to all stores/companies that received the defective products.

Cointelegraph has reported that Aeternity Blockchain is working with the Uruguay Digital Party to put voting on the Blockchain. They aim to develop a DApp and use Cryptocurrency to ensure a transparent and immutable vote is achieved. Also reported by Cointelegraph, Uruguay Can, a cannabis producer based in Montevideo has partnered with Aeternity Blockchain to track their shipments of cannabis on the Blockchain. It is said that Aeternity is building a DApp and will also incorporate IoT to track the cargo.

China Merchants Bank International (CMBI) partnered with Nervos platform. They intend to build DApps for payments, tokenization, amd identity verification for international transfers.

Icelandic retailer Nordic Store has paid for a shipment from IKEA Iceland via the Ethereum Network by using an e-invoice with Monerium's programmable digital cash.

Morningstar Credit Ratings, a subsidiary of Morningstar Inc. which is known for rating mutual funds of Prudential and Morgan Stanley, is on the verge of rating some investments of digital assets that are backed by real-world assets.

It was announced that Wal-Mart is to begin tracking shipments of shrimp from India for some of their Sam's Club stores using Blockchain technology. This could very well be the first step of Wal-Mart putting all of their shipments on the blockchain!

Japanese messaging app Line and Nomura Holdings have partnered up to form a Blockchain Alliance in Japan.

All of these previous examples are just the tip of the iceberg. Each week it gets better and better, more and more reports of huge corporations turning to blockchain. Mass adoption is just around the bend!
Hey, Did Ya Hear That…
…work has resumed on V2 of the highly anticipated Budbo app, a Tinder-Like application for Cannabis. The devs have settled their case against a former co-founder and once again have full rights to the project. Look for great things from them by year's end.

…CryptoSpaceCommander NFT , the Starship Voyager NCC-74656 sold for 89.92 ETH or $15,851 at the time of sale.

.. CoinExchange is shutting down. Trading and deposits will be suspended on the 15 October 2019. The site and withdrawals will remain operational until the 1 December 2019. Make sure to get your loot moved soon!
…300cubits, an international container shipping business on the blockchain has given up on its token,TEU, because of lack of interest.

…PayPal announced Friday that they have unfriended Facebook, the first of what may be many early backers leaving the project.

…the parents of 20 year old jailed hacker, Elliot Gunten, who was behind the 2016 hacking of UK-based TalkTalk and whom is alleged to be behind the hack of EtherDelta in 2017, are facing charges for moving his cryptocurrency from a seized hardware wallet accessed via the 24 word phrase.
…the US SEC announced that it has settled their case with Block.one for their unregistered ICO that raised around several billion dollars over roughly one year. The company settled with a $24 million civil penalty.
They Love Us, They Love Us Not:
Discord: 11,821 (+10)

Twitter: 7,422 (-10)

Russian Twitter: 33 (-1)

Latin American Twitter: 207 (-1)

Filipino Twitter: 5 (+1)

Telegram: 4690 (-45)

Facebook: 394 (+17)

Latin American Facebook: 627 (+1)
Cuff Links:
Website:
Telegram:
Discord:
Facebook:
https://www.facebook.com/HeliosProtocolPlatform/
Instagram:
https://www.instagram.com/heliosprotocol/
Reddit:
https://www.reddit.com/r/heliosprotocol
Bitcoin Talk:
https://bitcointalk.org/index.php?topic=4317054.0
Github:
https://github.com/Helios-Protocol
Atomars:
https://atomars.com/trading/HLSETH
https://atomars.com/trading/HLSBTC
https://atomars.com/trading/HLSUSDT
qTrade: