By: Daniel Thwaites Sr. & Tommy McKinnon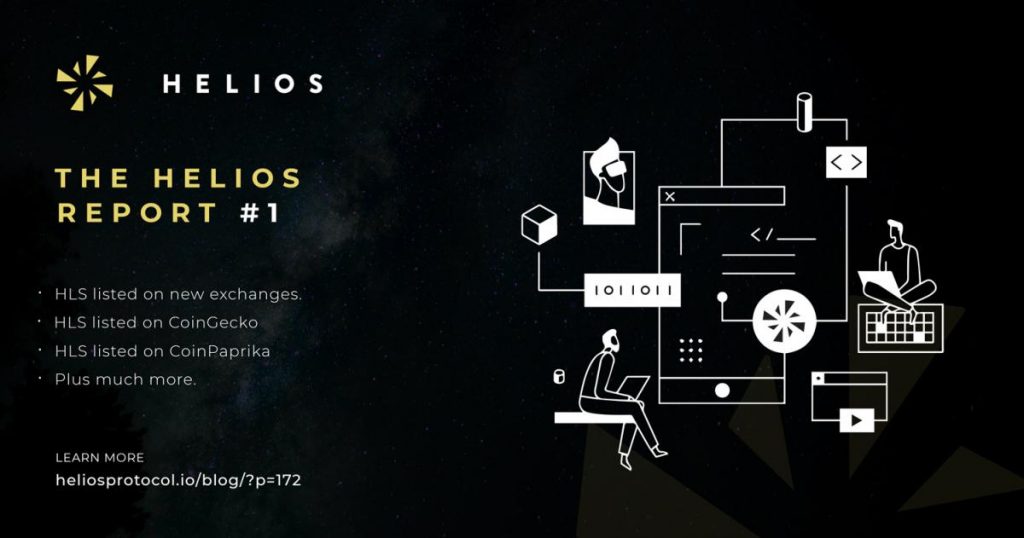 Salutations! This week marks the return of our new and improved weekly update, The Helios Report. We will be posting an update for everyone's viewing pleasure every week, right here on our blog. We will be talking about the latest happenings in the Heliosphere and briefly recapping important news in the Cryptospace and mass adoption in general. We hope you enjoy our new offering and thank you all for being a part of our family!
What's What in the Heliosphere:

Helios Protocol released some very big news during the past few weeks (and beyond) including exchange listings for HLS, listings on a few coin tracker apps, a new bounty has started, and a never been seen before smart contract announcement that is sure to change crypto as we've known it so far.

On August 27th our native coin, $HLS, went live for trading on Atomars exchange, our first of many exchanges to come! That was followed by a listing on the qTrade exchange September 13th. On Atomars you can trade $HLS against ETH, BTC, and USDT while on qTrade we are paired with BTC. We are currently in talks with other exchanges though due to interplanetary regulations, we may not comment on which exchanges.

You can now follow the price of your $HLS coins with a number of coin tracker apps. The first one, Delta, has updated their $HLS listing to reflect our new coin and exchange, qTrade, which also can be tracked with Blockfolio. CoinGecko was the next logical choice for a tracking app and they were more than happy to oblige. This past week we also announced that you can watch your $HLS on the Coinpaprika app as well. We're inching closer and closer to that coveted CoinMarketcap listing that everyone is asking about.

We currently have a dozen bounties running so our community can earn more $HLS and help spread the word simultaneously. We started a new one this past week, the Avatar Bounty. Members who want to help spread the word across 3 social media platforms can do so by sporting a nifty Helios Protocol logo as their avatar. Participants can earn up to 75 $HLS a week. The reward is 25 $HLS for use of the Helios Protocol logo, which can be found under the detail section of the avatar bounty, located on the airdrops and bounties page, for Discord, Twitter, and Telegram. Participation of all three platforms is not required to join, choose your own path and earn!

Now for the juicy juice from Helios! Our lead dev, Tommy McKinnon, released big news concerning our smart contracts. Our amazing team has reached a huge milestone in development by implementing the first multi-chain smart contract virtual machine in existence. With this new technology, DApps will be able to take full advantage of the multi-chain infrastructure of Helios Protocol. This is basically like taking normal smart contracts and parallelizing them which scales the performance exponentially. We are really excited to be close to releasing this new technology. You can check this and many other innovative commits through the links below.
This Week in Mass Adoption:

There has been some exciting news this week that shows mass adoption is well on its way! Among these were exciting announcements from Bakkt, JPM Coin, UK startup Everledger, Lloyd's Bank, Wells Fargo, Daimler, and, maybe most importantly, the U.S. Government.

This week we finally saw the start of the Bakkt futures. Many in the CryptoUniverse were expecting Bakkt to return BTC to its former glory but it seems to have fallen short of those expectations. It was reported that there was a grand total of $5.8 Million USD in BTC volume the first week. While this came as a disappointment to some, it is sure to gain traction in the coming weeks.

Each day more and more banks are jumping on the blockchain bandwagon, some of whom have bashed cryptocurrencies in the past. Recently it was announced by JPM Coin that 5 major banks from South Korea and 7 Indian banks are the latest to join their blockchain payment project, the Interbank Information Network or IIN. In the U.S., Wells Fargo has a pilot program due to run sometime in 2020 for their take on a stablecoin, Wells Fargo Digital Cash, for international payments. Across the pond, Lloyd's Bank has partnered with the blockchain platform, Komogo, also for international payment solutions. These examples are just a few of the recent announcements of banks finally realizing the potential of blockchain to fix their ageing systems and create a safer, more efficient banking experience for international users.

A few more things of note. Everledger, a UK-based startup who started out verifying the authenticity of diamonds with blockchain technology has raised $20m USD from large corporations, Tencent, Rakuten, and Fidelity Investments through a Series A for transparency services on the blockchain. Automaker Daimler has also joined in on the fun and announced the first transaction was recently completed on the blockchain trade finance network, Marco Polo.

In (not so) surprising news, the U.S. House of Representatives passed legislation concerning the use of blockchain and other innovative technologies. The bill, which is now on to the U.S. Senate, is meant to improve the Financial Crimes Enforcement network's (FinCEN) ability to fight, well, financial crimes. It has been titled The Advancement Innovation to Assist Law Enforcement Act. This is a great step in the right direction for the American government to better understand blockchain tech and maybe come to terms that it (blockchain) isn't going away!

Mass adoption WILL happen. It is getting there, bank by bank, immutable transaction by immutable transaction, and through individuals such as yourselves. It will happen and Helios Protocol aims to be at the forefront of the movement!
They Love Us, They Love Us Not:
This section is for the reporting of the amount of followers of our various social media accounts. The numbers will reflect the past week's movement. Being that this is the first installment, the beginning numbers were recorded by an analogue snapshot last Sunday.
Discord: 11,811 (+35)
Twitter: 7,447 (+30)
Russian Twitter: 34 (+26)
Latin American twitter: 208 (+1)
Filipino Twitter: 4 (+2)
Telegram: 4735 (-31)
Facebook: 377 (+26)
Latin American Facebook: 626 (+/- 0)
————————————-
Cuff Links:
Telegram:
Discord:
Facebook:
https://facebook.com/HeliosProtocolPlatform/
Instagram:
https://www.instagram.com/heliosprotocol/
Reddit:
https://www.reddit.com/r/heliosprotocol
Bitcoin Talk:
https://bitcointalk.org/index.php?topic=4317054.0
Github:
https://github.com/Helios-Protocol
Helios Platform Node Sign-Up Form: https://docs.google.com/forms/d/e/1FAIpQLSclfc6BgPTD_CX4VNuLmw639E1LZOlvNwtC3dXgBLwaElnIuA/viewform

Atomars:
https://atomars.com/trading/HLSETH
https://atomars.com/trading/HLSBTC
https://atomars.com/trading/HLSUSDT
qTrade: