By: Daniel Thwaites Sr. and Tommy McKinnon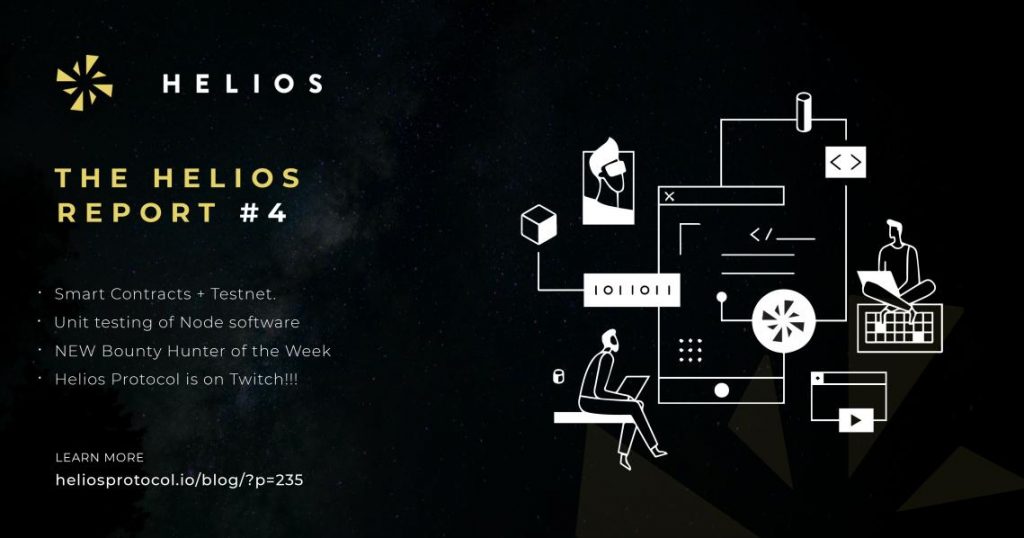 What's up Helios family???? We're back again with the fourth edition of the Helios Report! This week we've got a little bit more smart contract info to share, an old bounty turns new, and a few new sections have been added to the Report! This week marks the beginning of the Bounty Hunter of the Week, Meme of the Week, and Share, Earn, Repeat sections, PLUS we're now on Twitch! You're locked in right here. We're kicking it into overdrive…
What's What in the Heliosphere
The dev team has been working around the clock to add more and more unit tests for the node software with smart contracts enabled. We have identified and fixed many bugs and issues so far. We will continue to push ahead with more and more tests to ensure maximum reliability of the Helios Protocol platform. We expect to launch smart contract support on our Testnet shortly.
We revamped the Helios Avatar Bounty this past week to include the option to add the "HeliosProtocol.io" tag to your username in Discord or Telegram and earn additional bounty rewards!
This Tuesday, October 22nd @ 5pm PST (8pm EST) marks the beginning of the Helios Town Hall Meeting. This very update you are currently reading (unless it's after Tue night) will be read and community submitted wasting will be answered by team members of Helios Protocol. The shindig will be streamed live on our brand new Twitch channel!

Bounty Hunter of the Week: Nakkal#2601
Tada!!!! Here is the new Bounty Hunter of the Week section!!! Here we will be highlighting a user-submitted bounty that we deemed to be the best out of the past week's entries. The winner of the title of "Bounty Hunter of the Week" will receive a special prize. A bonus of 50% of the earned $HLS will be added to the bounty payment. A huge thank you to everyone for your submissions! Helping spread the Helios Protocol message is what it's all about!!!
We are proud to introduce Nakkal#2601 as the first titleholder of Bounty Hunter of the Week for the awesome Online Video Bounty. The winning submission was chosen from hundreds of entries and was deemed to be the cream of the crop. Congratulations Nakkal#2601!!! The video can be viewed above.
Meme of the Week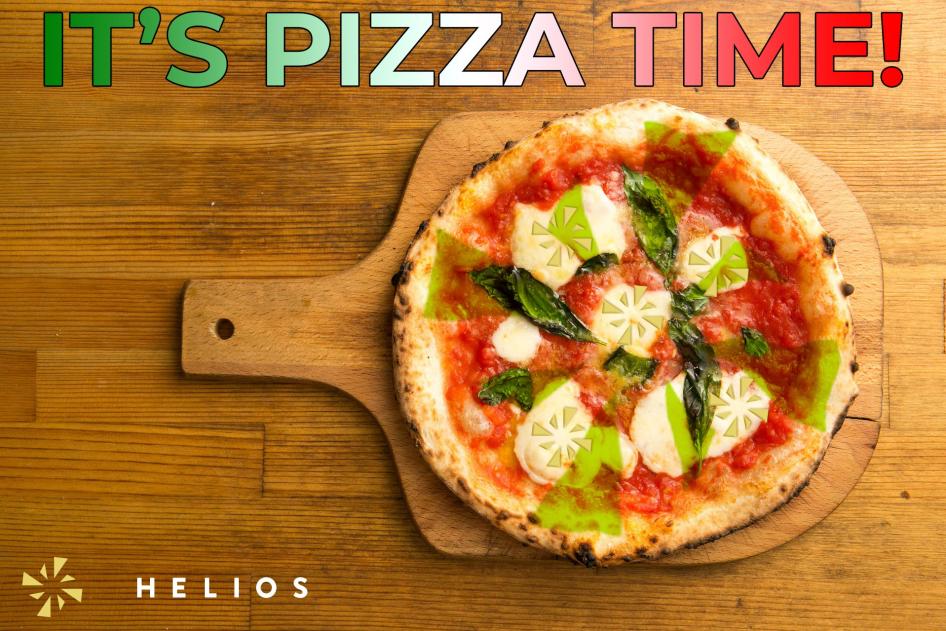 This Week in Mass Adoption
It's been one heck of a ride this week in mass adoption news! A fantastic press release from MOBI, more banks try to suck less using Blockchain tech, FAT Brands see the light, government accountability has met its match, and UKers can buy a 150 year old church with Bitcoin. Read on for El details…

As reported on Forbes.com, FAT brands, the parent company of restaurant brands, Fatburger and Ponderosa Steakhouse, has joined forces with Cadence, a Coinbase-backed digital investment platform, to tokenize a bond offering on the Ethereum Blockchain to the tune of $17 million.

This week a press release from MOBI, the Mobility Open Blockchain Initiative, showed that interest from automakers in Blockchain tech is rising fast. MOBI, Honda, BMW, Renault, and other automakers are working with each other to put vehicle identification on the Blockchain via Proof of Concept (PoC). BMW has worked on this area in the past with a vehicle ID test program on the VeChain platform.

Another banking association has tested out the Blockchain to solve their issues. This time the Italian Banking Association (ABI) has put 200 million data entries (one year's worth of info) on the Blockchain as a test run with The Spunta Project.

Fintech Malaysia has reported HSBC executed a Letter of Credit (LC) live on the Blockchain. The transaction was an import of resin materials from a Singaporean company to Simply Packaging of Malaysia. This marks the 11th Blockchain transaction spearheaded by HSBC.

Real estaters in the UK have got it right! According to a listing by real estate company, Finest Properties of Corbridge, St Laurence's Church (County Durham), a 7-bedroom home-conversion is for sale for £1,200,000 ($1,558,199 USD). The listing states, "The vendor is willing to accept the cryptocurrency Bitcoin (BTC) as a method of payment. The final sale price in BTC is to be agreed and confirmed with the vendor and will depend on the market valuation of BTC at the time of sale".

In more mass adoption related news from the UK, Ernst & Young (EY) has announced the EY OpsChain Public Finance Manager (PFM). This PFM will be used by governments for accountability and transparency with public funds and processes. The pilot program took place in Toronto. Debuting in 2017, EY OpsChain boasts of "seven use cases across the food and beverage, health care, financial services and asset management industries, as well as enterprise functions such as supply chain, procurement and asset management".
Hey, Did Ya Hear That…
…the 18 millionth Bitcoin was mined this past week? Current block reward is 12.5 BTC, and will lower to 6.25 BTC in May 2020 at the next halving. Supply should be exhausted in 2140…where did I park that time machine again?

…the United States SEC, FinCEN, and CFTC issued a joint statement, read warning, to US cryptocurrency holders? They said if you launder money with crypto it's bad, mmkay!

…J. Christopher Giancarlo, ex-chair of the CFTC is telling the government they need to make a Blockchain-based US Dollar before it's too late? mmduh!
…Karma Automotive, an EV competitor of Tesla out of Irvine, California is now accepting Bitcoin for purchases? Earth to Elon…Come in, Elon. Do you copy?
…New Balance is using the Cardano to track sneaker authenticity? Now you can get your kicks on the Blockchain and wear them too!
…two counties in Oregon started a pilot program where residents can place their votes for the special elections in November. Check that!
…Broadway tickets are coming to a Blockchain near you? Can you say Hodler on the Roof?
…NASDAQ is listing an index for the top 100 cryptocurrencies powered by Artificial Intelligence, CIX100? Domo Arigato, Señor Roboto!
…the Deutsche Bank tokenized some bonds on EOS and Crypto Twitter laughed? CT say HA
…Bermuda is starting the first phase of their National ID system on the Blockchain? Bermuda, Bahama, come on Crypto Mama…
Share, Earn, Repeat
Start a Meetup | Bug Bounty | Article
DApp Share | Avatar | Daily Task | BitcoinTalk Daily
Online Video | Meme | Social Influencer | Referral | Coding Contributions
They Love Us, They Love Us Not
Discord: 12,070
Twitter: 7406
Russian Twitter: 37
Latin American Twitter: 209
Filipino Twitter: 9
Uptrennd: 17
Telegram: 4613
Facebook: 422
Latin American Facebook: 630
Cuff Links
Website:
Telegram:
Discord:
Uptrennd:
https://www.uptrennd.com/signup/NTg1OA
https://www.uptrennd.com/user/heliosprotocol.io
Trybe:
Facebook:
https://www.facebook.com/HeliosProtocolPlatform/
Twitch:
https://www.twitch.tv/heliosprotocol
Instagram:
https://www.instagram.com/heliosprotocol/
Reddit:
https://www.reddit.com/r/heliosprotocol
Bitcoin Talk:
https://bitcointalk.org/index.php?topic=4317054.0
Github:
https://github.com/Helios-Protocol
Atomars:
https://atomars.com/trading/HLSETH
https://atomars.com/trading/HLSBTC
https://atomars.com/trading/HLSUSDT
qTrade: