By: Daniel Thwaites Sr.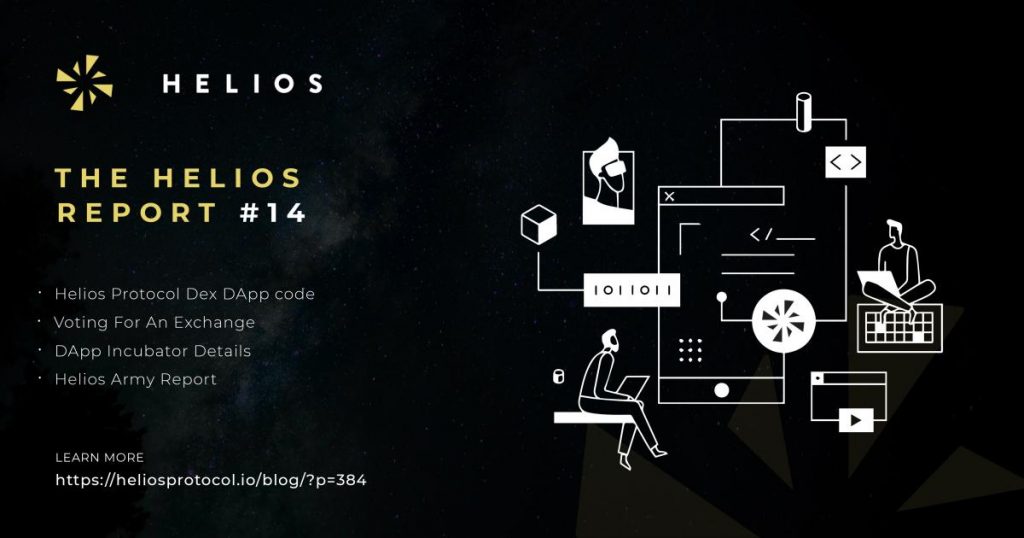 What's What in the Heliosphere
Hello once again and welcome to the Helios Report. For 14 weeks in a row now we've brought you amazing updates from Helios Protocol and the Cryptocurrency space in general. This week is sure no exception. The only difference is the decade in which you are reading this. 2020. We finally made it! In this first-ever Helios Report of the decade, we bring you a few things of greatness like the first-ever HP dex DApp code has been finished, a new voting for a new exchange, some DApp Incubator details, and a Helios Army report. We hope you all had a safe and wonderful holiday season!!! Happy New Year from Helios Protocol and remember, we'll have you all seeing 20/20 in 2020!!!
We have some amazing news to share with you all! We are very excited about this…wait for it…we haaaaaaave… just finished programming the first decentralized exchange (DEX) DApp code for Helios Protocol! You can find it here or 👇
https://github.com/Helios-Protocol/helios-code-examples/blob/master/smart_contracts/solidity/decentralized_exchange.sol
If you are unaware of the DApp Incubator program we offer, here are a few details that are sure to pique your interest! Developers who would like to deploy their DApp on the Helios Protocol platform are able to receive a variety of great benefits for doing so. Devs will receive $HLS from our DApp Incubator Fund to use to develop their project and, for example, offer free transactions to their users for trying out their DApp, professional design and developer services, plus experienced Blockchains professionals are on-hand to advise your project. As we reported last week in the Helios Report #13, as a bonus, until the 21st of January, any DApp that is deployed on the Helios Protocol Hypothesis Testnet will be entered to randomly win a 1-year subscription to any JetBrains IDE of the winner's choosing. This is up to a $500 USD value! Details can be found here. Don't delay, deploy today!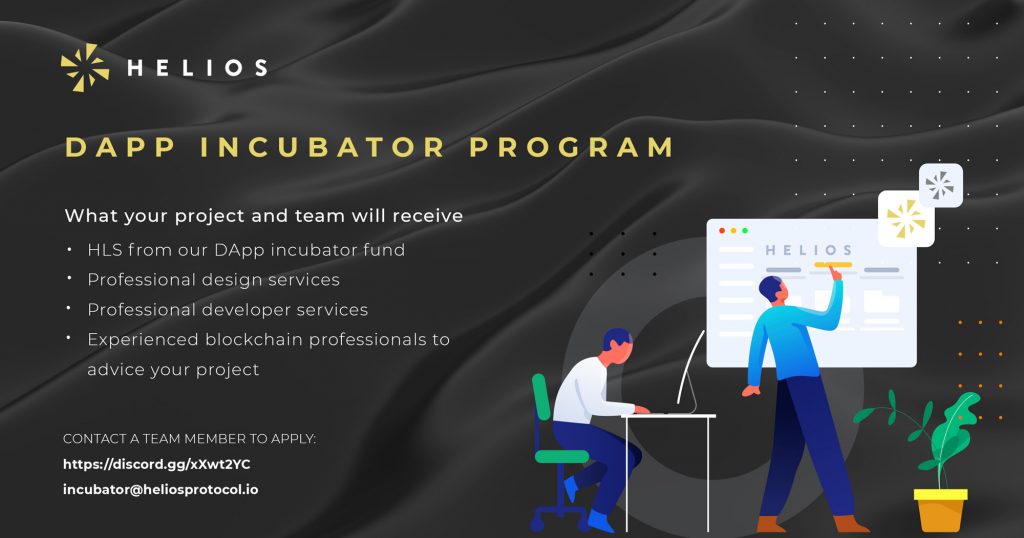 Thank you to those that commented to get Helios Protocol listed on a new exchange! Coindeal revamped their voting process and they took user comments on this tweet. The top ten most mentioned projects get added to a voting poll. The winner of that poll gets listed for free! Comments deadline was the end of the year. Voting will start in mid-January and users may vote up to five times a day. On January 13th the top ten will be revealed. Your help was and is very much appreciated and even if we don't make the top ten, this will help others to hear about our great project.
We would like to take this opportunity to thank all of our amazing members of the Helios Army! You all have been such a fantastic addition to the Helios Protocol family!!! All of your hard work and dedication are visibly paying off. As the Helios Army continues to grow, so does your level of commitment. We couldn't be more proud of the work you all are doing!!! Thank YOU!!! If anyone is interested in joining this elite bunch, join our Discord and speak to one of the team members. Any one of us can show you the way!
Bounty Hunter of the Week: @samistry
Congratulations goes out to @samistry for being named Bounty Hunter of the Week! This honor was bestowed for a fantastic article about Helios Protocol which can be read here. You will be receiving a 50% bonus on your bounty payment this week. A huge thank you to everyone who submitted bounties. It was a hard decision this week! Keep those bounties coming and keep earning those $HLS rewards!
Meme of the Week
This Week in Mass Adoption
Mass adoption, what is it? Is it Universities offering accredited courses in Blockchain or governments offering the same? Is it the United Nations calling for Blockchain tech? Only time will tell. We gathered some news not only about the Universities and countries offering Blockchain courses as was mentioned above but also a great tale from the Ocean State, Operation Sand Dollar has commenced, and cashmere softens the Blockchain. Just chill and enjoy these Tales From the Blockchain…
Let us start out this week's mass adoption news with some East Coast love! Rhode Island, famous for being home to the Most Interesting Man in Crypto (you are amazing), is proving to be in contention for the title of Crypto Capital of the US. According to a report from AmericanInnoRI, The Ocean State released an RFP (read PDF), or Request for Proposal in May 2019 to businesses in the state for ideas on how to improve their respective industries with the use of Blockchain technology. Department of Business Regulation director Liz Tanner told the RI Inno "The state has received submissions from 30 vendors with more than 60 ideas for blockchain technology implementation". The RFP covered a dozen different industries where Blockchain would be a great benefit including contracts, the Cannabis medical field, any kind of record-keeping, registration and license issuances, and more. The end goal, though far into the future, seems to be a state-wide e-residency system like that of Estonia.
Commence Operation Sand Dollar…The Bahamas finally released a pilot for their National Digital Currency, the, well, the Sand Dollar! According to the Jamacia Observer, The Digitial Bahamian Dollar will be used in Exuma and will be joined by Abaco in the first half of 2020. The intent is to ease the trouble citizens must face for AML/KYC procedures and make banking more efficient and accessible to everyone.
The University of California at Santa Barbara wrapped up its first-ever accredited course that taught students about Blockchain technology. The story was first reported by Cointelegraph. According to the course description on the USCB website, the course, which was offered through the College of Creative Studies Computer Science program covered "an overview of blockchain concepts, hash functions, public key cryptography, digital signatures, consensus protocols: proof of work and proof of stake, Ethereum, the Ethereum Virtual Machine, the Solidity programming language, decentralized applications, smart contracts, tokens, and security considerations of decentralized applications and blockchain systems". This is clearly a sign that mass adoption is well on its way.
If a large American University teaching Blockchain courses isn't enough to convince you, how about the country of Rwanda? The African Blockchain Institute is opening a Blockchain school in the country of Rwanda in 2020. According to an interview with Cointelegraph and the Executive Director of ABI, Kayode Babarinde, the school will offer 5 main classes and they will be a "blockchain essentials certification course, a blockchain developers' course, an enterprise blockchain course, blockchain for lawyers, and blockchain for impact". Babarinde said a pilot program was held in Ghana with a "blockchain essentials certification course" and the curriculum has been updated accordingly for the program in Rwanda based on the results of the pilot program.
Still not convinced? What if the Indian government did it too? The National Power Training Institute, or (NPTI) of India is offering free-to-attend classes on Blockchain technology. The program, entitled "Blockchain Technology" has a maximum of 50 attendees and will be held over a period of 5 days. Three programs have been scheduled already and the first is soon to start on January 6 -10 in Nangal. The second can be attended in New Delhi from February 17 – 21st and the third is scheduled for March 16 – 20th in Shivpuri, Madhya Pradesh. As reported by Bitcoin.com, the topics covered include "Blockchain, its use cases, smart contracts, ledgers, the Ethereum framework, the concepts and applications of cryptocurrency, the integration of crypto and blockchain, Bitcoin, and mining".
Ok, ok, ok. A few opportunities to teach future developers about Blockchain wasn't enough to convince you…how about the United Nations secretary-general António Guterres? In a statement given exclusively to Forbes, Mr. Guterres said, "For the United Nations to deliver better on our mandate in the digital age, we need to embrace technologies like Blockchain that can help accelerate the achievement of Sustainable Development Goal". This is huge for the Blockchain industry. The UN consists of 193 nations, of which the top ten countries to embrace Blockchain technology are members including the United States, Canada, China, Japan, Switzerland, and Sweden to name a few.
Banks of another United Nations member, Spain, are starting to dabble in Blockchain technology with a Smart Payments Platform pilot program. Finextra reported the pilot will be a Proof-Of-Concept platform to "facilitate the initiation of instant credit transfers from smart contracts deployed in a blockchain network". The five banks which include Banco Santander, Banco Sabadell, CaixaBank, Bankia, and BBVA and brought together by Iberpay, who runs the Spanish Payment System, ran a "fictitious business case deployed in a Blockchain network, which has already been implemented and has six distributed nodes managed by each participant".
Aaaaaaannd…….here's another story involving the United Nations, this time with member nation Mongolia and that luscious cashmere! Forbes reported that the UN and tech provider Covergence.tech are using an Ethereum-based platform to pilot a program to ensure the sustainability of cashmere production. 70 different herders and 8 cooperatives used an app on the Android platform to register RFID tags on their herds which get pinned to a GPS map. This allows herders to produce cashmere transparently on the Blockchain and get recognized for good practices. About 471kg of cashmere was tracked and traced from the pilot participants to a factory in Ulaanbaatar, and along to customers that are happy to dish out a little extra for the peace of mind that the immutable proof of sustainability of the purchased goods that Blockchain brings.
Hey, Did Ya Hear That…
…Ethereum conducted another upgrade on January 1st to diffuse the recently overlooked difficulty bomb? Hope you all had a Happy New Year's ETH!
…IstanBlock 2020 launched its early bird ticket sale on Christmas Day? Did you get a worm?
…the European soccer championship 2020 will be selling thousands of tickets tokenized on the Blockchain? GOOOOAAAAAAAAAAAAAAAAALLLLl
…YouTube said it was a boo-boo that removed the Crypto videos off their platform? Um, yeah, sure.
…BitMEX holds 0.18% of all circulating Bitcoin? Cha-CHING
…Ethereum co-founder Jeffrey Wilcke sent 92,000 $ETH to Kraken? He later tweeted, "Jesus Christ. Nothing goes unnoticed. Need money for my game, yo".
…Mark Cuban is grinding the gears of the Crypto space with his bad-mouthing of Bitcoin? Maybe because Unikorn really Unikouldn't?
…OmiseGo had its first-ever Mainnet transaction? Oooh…they're getting so big and cute!!!
Share, Earn, Repeat: The Bounties
Start a Meetup | Bug Bounty | Article
DApp Share | Avatar | Daily Task | BitcoinTalk Daily
Online Video | Meme | Social Influencer | Referral | Coding Contributions
They Love Us, They Love Us Not
Discord: 12,238
Twitter: 6,264
Flote: 113
Reddit: 59
YouTube: 66
Uptrennd: 62
Telegram: 4,268
Facebook: 635
Trybe Views: 529
Latino Twitter: 195
Filipino Twitter: 18
Latino Facebook: 631
Cuff Links
Website I Github I Discord I Twitter
BitcoinTalk I Reddit I Twitch I Uptrennd I Flote
Telegram I Facebook I YouTube I Trybe I Instagram
Twitter – Latin American I Twitter – Russian I Twitter – Filipino
Latin American Facebook I Uptrennd Sign-Up I qTrade-HLS/BTC
Atomars-HLS/BTC I Atomars-HLS/ETH I Atomars-HLS/USDT