By: Daniel Thwaites Sr.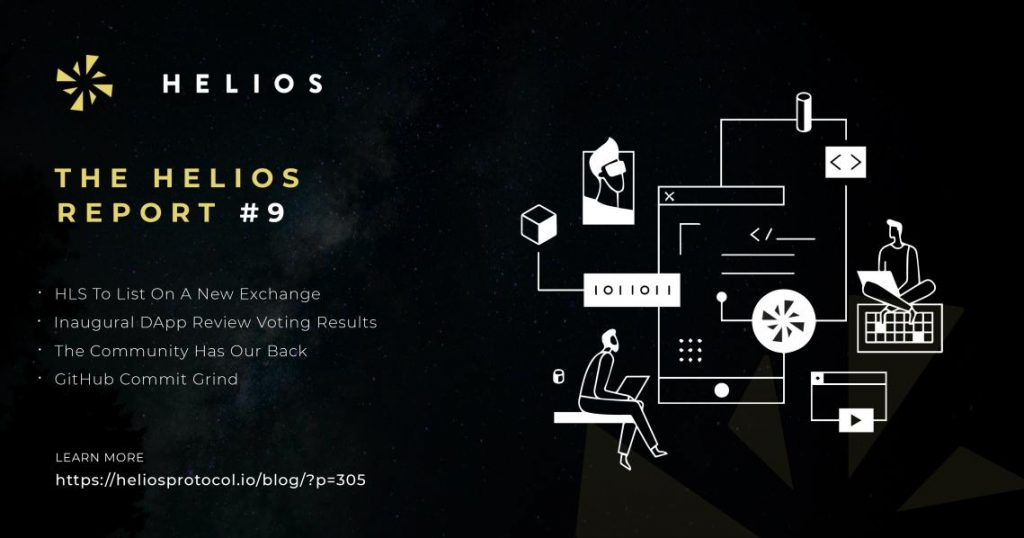 What's What in the Heliosphere
Nine weeks strong and counting! Welcome again to the Helios Report! We'd like to wish each and every one of you a happy Thanksgiving! We are very thankful for our community and the love they show us every day! We're so glad we get to be a part of this with you all everyday!!!! It's been an exciting week in the Heliosphere and we're excited to bring you the news! We have great things to chat about like the new upcoming exchange listing we secured, a DApp review vote came and went, and wow, the commits just keep popping! Pull up a log, fireside, and grab your cocoa because here we go…
Our fantastic community, the backbone of Helios Protocol, really showed their true colors this past week! Through their efforts of support, we were able to secure an upcoming listing on an exchange that is top-100 listed on CoinMarketCap. We are excited to announce we will be listing shortly on the Alterdice Exchange! We really want to thank all of you who did your thing this week and nailed this for us all…THANK YOU!!!!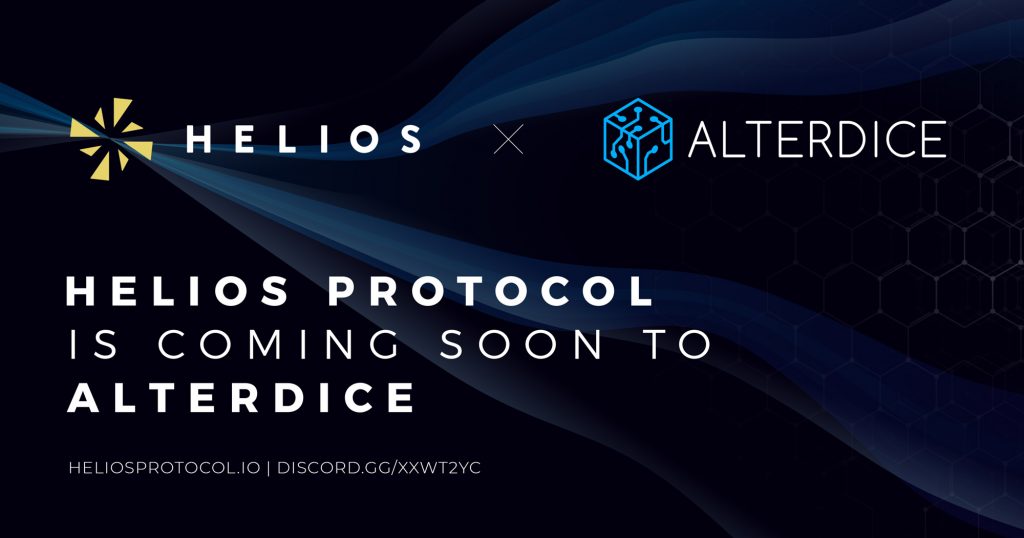 As usual, we have been grinding away at the Testnet smart contract testing and things are coming along just as planned. We have been making a number of commits and we just won't stop! We are constantly working our way toward full smart contract release and we will be updating you all soon as to when that will happen!
The turnout for the inaugural DApp voting contest was spectacular! What a voting race we had! It all started when we asked all of you which DApp project we should review first. Through your suggestions on Twitter, we took the top ten most mentioned Dapps and held a vote in our Telegram group. Forgotten Artifacts jumped out to an early commanding lead but Neon District steamed ahead to take a huge lead! It all came down to the wire, the two were tied for a while and in the final moments, Forgotten Artifacts took a two-vote lead and held on for the win! Congratulations to the Forgotten Artifacts community and team! There were a total of 385 votes and the final top five can be seen below. We will be doing bi-weekly reviews all chosen by you so don't forget to set your Twitter notifications to "ON" for @HeliosPlatform!!!
Forgotten Artifacts – 145 – 38%
Neon District – 143 – 37%
Space Misfits – 47 – 12%
Dissolution – 23 – 6%
Zed Run – 12 – 3%
Bounty Hunter of the Week: @azisjesika
Another big congratulations goes out to @azisjesika for the phenomenal video submission! We were very impressed with it! You will be receiving a 50% bonus on the video reward for this week once again! Thank you very much for your hard work and dedication to Helios Protocol!!! The video can be viewed here.
Meme of the Week
This Week in Mass Adoption
We love to see all the great news that comes out each week and we're very thankful we can share some with you all! Another week has come and gone and with it came tales from the French Army and Tezos, IBM and more seafood, gaming and soccer, and Lambos, Blockchains and Planes, oh my! We're off to see the wizard…
According to a press release by Salesforce, they have answered the age-old question of, "Wen Lambo"? Italian supercar maker Lamborghini is hopping on the Blockchain train with the Salesforce for "digitizing its authentication process by creating a trust network among technicians, repair shops, dealerships and more". Certification checks for re-sold Lambos are extensive and involve a large number of outside parties to complete. Usually "800 to 1,000 certification checks" are done on each vehicle before the resale. By utilizing the Salesforce Blockchain they can streamline the process and will allow the company to "authenticate each heritage vehicle faster and more securely than ever before". Wen Lambo? NOW!
If you've been following since the first Helios Report, you'll have noticed a trend that we have been reporting on and that is seafood traceability. Here is another example to reiterate the fact that Blockchain is key for the sea(food). The #1 brand of seafood in France, Labeyrie, has announced it will be teaming up with IBM Food Trust and using the IBM Blockchain to track and trace their salmon. Through QR codes "consumers can now get information in text and photos…containing comprehensive information about the fish; its origin, when it was hatched, which freshwater facility it came from, how big it was when it was transferred to seawater, at which seawater facility it has been farmed, as well as health and welfare information such as which vaccinations it has received, what it has been fed, and when it was harvested". IBM Food Trust had recently made the Helios Report with New Bedford's Nordic Inc. for the tracking of scallops. Another instance of scanning a QR code, in this case right on the menu of a restaurant, to see where your food has traveled!
The Tezos Foundation update for November 22nd contained some interesting news about the French Army. Since September, the cybercrime division of the French National Gendarmerie has been "recording judicial expenses on the Tezos Blockchain". This is the very first instance of a government entity using smart contract tech on a Blockchain. French R & D company Nomadic Labs was key in the process of building the program which allowed "C3N to acquire cryptocurrency from Europol allocated funds in order to cover operational costs".
German airline Hahn Air Line announced they have issued the first airline tickets on the Blockchain. Maksim Izmaylov and Davide Montali of Winding Tree and Frederick Nowotny of Hahn Air were the first passengers to use "a real-world ticket enabled by blockchain technology on the open-source travel distribution platform Winding Tree". The flight took place on November 18th going from Dusseldorf to Luxemburg. With the Winding Tree platform, Hahn Air "can list inventory, manage the reservation requests, and receive payments once the booking process is complete". Tickets can be booked using Ethereum or Winding Tree's LIF token.
Ubisoft is entering the world of Blockchain gaming. Venture Beat reported that French-based Ubisoft will be helping Ultra, a rival of Steam, to validate transactions and test the capabilities of its Blockchain called UOS, "a sister branch of EOSIO". Testing will include "in-game assets creation, ownership transfers between players, or payments". More and more big names in the gaming industry are joining the Blockchain gaming revolution and it will never be the same!
Cointelegraph relayed a cool story from the Netherlands this week. During a match between Estonia and Netherlands, The Royal Dutch Football Association piloted a new ticketing app that is powered by our friend the Blockchain. Paper tickets will be a thing of the past if the program is successful. Ticketholders receive a PDF-based ticket, validated on the Blockchain, on an app on their phones. The tickets can only be used during certain time periods and are proximity-based as well to prevent scalpers from being able to sell them multiple times.
Hey, Did Ya Hear That…
…NFT transactions have surpassed $ETH transactions? …
…Justin Sun's account at Bank of America was shutdown? Short banks, long Crypto!
…there are now over 6,000 Bitcoin ATMs worldwide? "Uh, I'm just gonna go find a cash machine." -The Dude
…crypto assets are recognized as tradable property under UK and Welsh laws according to the UK Jurisdiction Task Force of the Lawtech Delivery Panel? Smart Contracts = enforceable agreements too!
…Sludgefeed has teamed up with OpenSea to open a new NFT trading platform? OpenSea rocks!
..the central bank of Japan has hinted they may be looking into a national digital currency? Fantastic!
…Binance has bought Indian exchange, WazirX and will integrate it into the Binance Fiat Gateway platform? CZ knows where the talent is!
…Coinbase UK has added four more Cryptocurriencies to their platform? $XTZ, $DAI, $EOS, and $LINK are in like Flynn!
…the great state of Wyoming, USA has passed a total of 13 Blockchain laws this year? Hello? U-Haul?
…Fidelity Digital Assets went fishing in New York and caught themselves a rare BitLicense? Fish ON!!!
…Mythical Games raised $19 Million USD for Blockchain-based gaming? Ready Player One
Share, Earn, Repeat: The Bounties
Start a Meetup | Bug Bounty | Article
DApp Share | Avatar | Daily Task | BitcoinTalk Daily
Online Video | Meme | Social Influencer | Referral | Coding Contributions
They Love Us, They Love Us Not
Discord: 12,009
Twitter: 7,254
Flote: 66
Russian Twitter: 65
Latino Twitter: 206
Filipino Twitter: 17
Uptrennd: 43
Reddit: 58
Telegram: 4,435
Facebook: 540
Latino Facebook: 627
YouTube: 52
Cuff Links
Website I Github I Discord I Twitter
BitcoinTalk I Reddit I Twitch I Uptrennd I Flote
Telegram I Facebook I YouTube I Trybe I Instagram
Twitter – Latin American I Twitter – Russian I Twitter – Filipino
Latin American Facebook I Uptrennd Sign-Up I qTrade-HLS/BTC