By: Daniel Thwaites Sr.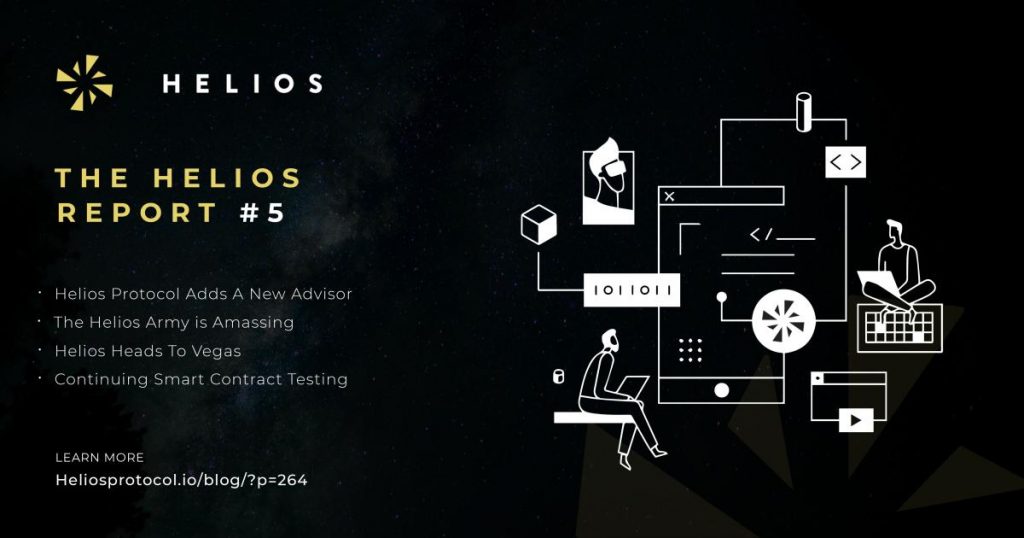 Booooooom shakalaka! Helios Protocol is here again with the fifth publication we like to call the Helios Report!!! We hope you all have had a productive and fun week! There is a banana bunch of info to share with everyone this week! Helios Protocol welcomes a new advisor to the team, the Helios Army is amassing, our lead dev is heading to Vegas, and a successful Town Hall Meeting has come to pass! Suit up for an information blast off…
What's What in the Heliosphere
This week Helios Protocol was thrilled to welcome Ashton Addison to the team as an advisor. Ashton is the founder and CEO of Vancouver-based Smart Ticketing Platform, EventChain. Helios Protocol joins an impressive list of projects being advised by Ashton including SysCoin, PundiX, and CoinPayments. He is also the host of the podcast, The Crypto Coin Show.
Helios Protocol is proud to introduce The Helios Army. The Helios Army is a new way to reward our most faithful community members for their continued support. Army members can earn exclusive $HLS rewards each month (rewards are rank based) for completing specific assignments and spreading the message of Helios Protocol. There will be various bonuses, which includes a large pool of $HLS that will be split among the top Army performers of each month. Applications are always taken but admission periods only happen on the 1st and 15th of each month. A limited number of applicants are accepted each admission period. Join our Discord for more information.
Helios Protocol is heading to World Crypto Con this week! Come out and say hi to our team! We will be giving out t-shirts so come find us before supplies run out!!!
We will also be using our time there for networking with other top blockchain projects and professionals to create new strategic partnerships for the project. We will share news about it in future reports!!!
On Tuesday we held our first Helios Town Hall Meeting and invited the community to stop by and meet some of the team and hear some user-submitted questions get answered. It was a great success! We had more members show up than we anticipated and we couldn't be happier with the outcome. Because of the interest shown, we will continue to have future Town Hall Meetings on a bi-weekly basis. You can submit questions in the #town-hall-meeting-q-and-a channel in our Discord server. Any question that gets answered at the meeting receives 25 $HLS!!!
Teaser Alert: Lead dev Tommy McKinnon will be featured in an upcoming podcast but you'll have to wait for it 😉
Bounty Hunter of the Week: @Damao#1846
Congratulations to community member @Damao#1846! You are the Bounty Hunter of the Week!!! The bounty submission was a fantastic article for the Chinese community which can be read here. As Bounty Hunter of the Week you are receiving a 50% bonus on your article bounty prize. Amazing job!!! A big thank you to all who submitted entries this week. Keep 'em coming!!!
Meme of the Week
This Week in Mass Adoption
This week sure did not disappoint with news that shows that mass adoption is nearly knocking at our doors. There was big news from all over the globe this week. Amazon Moons but not how you think, Utah pilots a program, know your whiskey and fish, and then call someone to tell them about it. All this and more, right here….
Got Bitcoin? Use amazon? If you answered yes to both, then you are in luck! You can now pay for your Amazon purchases using a browser extension from US-based startup, Moon. Download the browser extension, install, then choose the option to "Pay with Moon" upon checkout. Amazon users can currently pay with Bitcoin, Litecoin, Ethereum or Bitcoin Cash. Moon is currently only available for use on Amazon, but according to their website, "soon you'll be able to shop on any of your favorite e-commerce websites, like eBay, AliExpress and Target".
Great news for disabled voters in Utah County, Utah. The county government is piloting a mobile voting program for voters with disabilities. The program will utilize the Blockchain-based voting app from Boston-based Voatz. Voters who qualify can sign up through this pdf form on or before Tuesday, October 29, 2019 by 5:00 pm MDT. Utah County is also joined by Jackson and Umatilla Counties in Oregon who are also piloting Blockchain-based mobile voting through Voatz.
The National Service of Agrifood Health and Quality of Argentina has announced they are incorporating Blockchain technology into the Citrus Traceability Information System (SITC). SITC is responsible for the tracing and tracking of citrus fruit exports from Argentina. The technology will reduce fraud, show who's responsible for issues in the shipments if any exist, and will help prevent the spread of food borne illness that can come with bad citrus fruits.
Ailsa Bay whiskey is condensing on the Blockchain. William Grant & Sons, a family-owned distillery in the UK has mashed together with arc-net, a Blockchain company focused on Brand Protection. Arc-net offers a Distiller ID which, as they state on their homepage, provides "the means to control and track your unique spirit from grain to glass and beyond". In addition to the distillery sector, arc-net also offers Blockchain solutions for the Farming and Aviation industries.
This Blockchain smells fishy. Massachusetts fishing company, Nordic Inc is hooking their business, from the catch to your table, using Food Trust, an IBM corporation. Their aim is to tell you the complete story of where your scallops have journeyed from the ocean depths to your dinner plate.
In Telecommunication news, the IBM News Room has reported a joint collaboration between IBM, TBCASoft, and SoftBank Corp. to bring the Telecommunication and Blockchain industries together through the Carrier Blockchain Study Group (CBSG) Consortium. The article states that "TBCASoft will bring technology and solutions", "IBM will bring its blockchain tech", and "SoftBank will bring its telecommunications expertise". The Cross-Carrier Payment System or CCPS, will be the first DApp launched by the group which will allow mobile payments to be made to participating companies.
Hey, Did Ya Hear That…
…President of the People's Republic of China, Xi Jinping, said that China has to "seize the opportunity" that is Blockchain. Then…
…that Bitcoin recorded its third-highest daily gain in history? And the next day…
…the Chinese Congress passed a "Cryptography Law" which goes into effect on January 1, 2020? Is this the start of something big…
…BTC futures volumes on Bakkt had over 450 BTC futures contracts traded? [Insert Bakkt to the Future joke here]
…BTC trading volume on Binance Futures hit an all-time high of $1.1 billion? Wow!
…WeChat is using the Blockchain to track payments? Saw that coming from 7000 miles away!
…the new PundiX Blockchain phone, BOB, is almost ready to debut? Hmmmm….
…HTC's Exodus 1s, a Blockchain phone, will allow users to run a full Bitcoin node? What about BOB?
…you can get a Masters Degree in Blockchain from U of Malta? I'll take a DLT MA to go, please!
…Ripple opened offices in Washington D.C.? That thin air, right in his backyard…
Share, Earn, Repeat
Start a Meetup | Bug Bounty | Article
DApp Share | Avatar | Daily Task | BitcoinTalk Daily
Online Video | Meme | Social Influencer | Referral | Coding Contributions
They Love Us, They Love Us Not
Discord: 11,937
Twitter: 7359
Russian Twitter: 37
Filipino Twitter: 10
Uptrennd: 21
Reddit: 38
Telegram: 4540
Facebook: 441
Cuff Links
Website:
Github:
https://github.com/Helios-Protocol
Discord:
Uptrennd:
https://www.uptrennd.com/signup/NTg1OA
https://www.uptrennd.com/user/heliosprotocol.io
Trybe:
Facebook:
https://www.facebook.com/HeliosProtocolPlatform/
Latin American Facebook:
https://www.facebook.com/HeliosProtocolLatino/
Twitch:
https://www.twitch.tv/heliosprotocol
Telegram:
Instagram:
https://www.instagram.com/heliosprotocol/
Reddit:
https://www.reddit.com/r/heliosprotocol
Bitcoin Talk:
https://bitcointalk.org/index.php?topic=4317054.0
Atomars:
https://atomars.com/trading/HLSETH
https://atomars.com/trading/HLSBTC
https://atomars.com/trading/HLSUSDT
qTrade: