By: Daniel Thwaites Sr.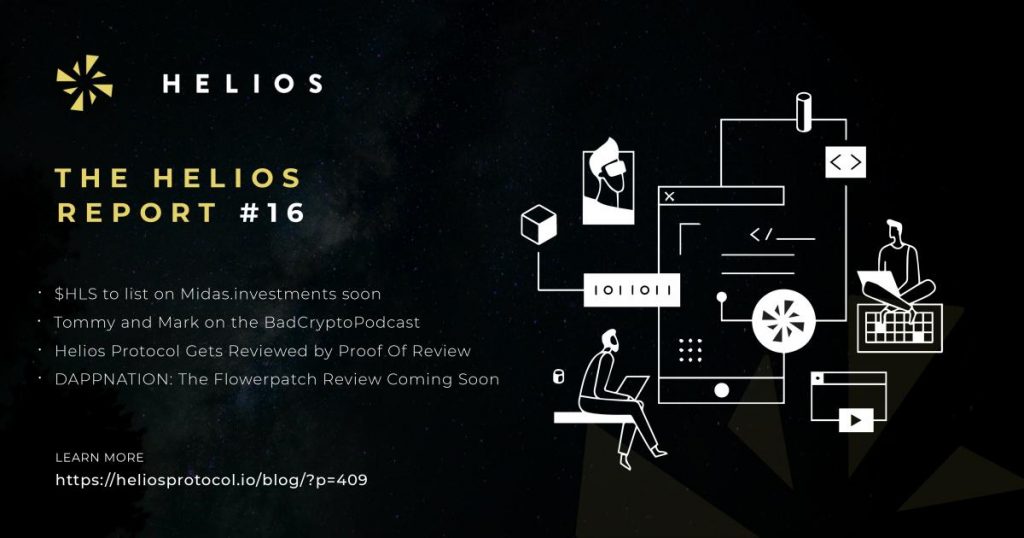 Hellooooooooooo everyone!!!!! We're back again with your favourite publication, the Helios Report, Edition 16!!! We've been extremely busy putting the final touches on some things and searching for DApps to build with us so the Helios Report has been hibernating for a minute 😉 For the time being, we have decided to make the Helios Report a bi-weekly publication starting with this one!
With that being said, we've got some catching up to do! We have great things to share with you from the past few weeks including A NEW EXCHANGE LISTING, an upcoming podcast spot, and the fourth Helios Town Hall Meeting has successfully been completed, Proof of Review shows us some love, and look for the 2019 Year In Review coming soon! Another thing of importance to note, the next edition of DAPPNATION is almost here! We have this and more for you all right here so check it out, Frog…
What's What in the Heliosphere
Helios Protocol is proud to announce that $HLS will soon be listed on the Midas Investments Exchange! We extend our deepest appreciation to our out-of-this-world community!!! Thank you to all who came out and voted for Helios Protocol. We destroyed the competition to secure a free listing. If you are unfamiliar with the Midas Exchange, they are "The complete solution for trading, managing and monitoring your passive income portfolio". They offer a wide variety of services such as shared Masternodes, Proof of Stake services, and more. There is also an amazing burn-out feature that you just need to see! Join their Discord today to learn more about these awesome features!!!
We hoped you tuned in to the BadCryptoPodcast this week! Two of our amazing Helios peeps, Tommy and Mark, surfed the soundwaves with Joel and Travis on Wednesday, Feb 11! If you don't know the BadCryptoPodcast (and who doesn't), they are The World's Best Cryptocurrency Podcast! You can catch them on Spotify, Stitcher, the podcast features of GooglePlay and Apple, plus more. Be sure to visit their website and sign up for the newsletter to stay in the know about upcoming podcasts and other blockchain news!
The Proof of Review review has been released!!! The amazing team at Proof of Review has shown us some love with an in-depth look at the Helios Protocol project! We scored so high in the community and team sections that we just had to smile! We know we have the best community around, they just backed us up on that claim! All in all, it was a great review and we learned a ton of things about ourselves in the process! We want to thank the team at Proof of Review for taking the time to review our project and offering us great advice on how we can improve! The full review can be read here.
On Tuesday, the 4th of February, we held our fourth Helios Town Hall Meeting Q & A. There was a lot talked about during the stream! If you haven't heard of this yet, where have you been??? Our community is invited to leave questions in the #town-hall-meeting-q-and-a channel in our Discord server. During the livestream there was new information released by Tommy, our lead developer. If you missed it, you're just going to have to stay tuned right here for more! The video will also be available on our YouTube channel in the near future so watch for that!
Pay attention right here to our blog because the next edition of DAPPNATION is almost here. This time we have reviewed the spectacular MMORPG Cannabis collectible card and farming game, Flowerpatch! Flowerpatch is a next-gen game that offers true ownership of your game pieces via Blockchain tech. Be sure to watch for the release to learn more!
Are you or do you know a developer who is building a Blockchain-based game or DApp? We at Helios Protocol would love to have you join our platform and build with us. We offer top of the line tech, huge performance upgrades to existing platforms, and out DApp Incubator program is in place to help you get your DApp off the ground. We offer $HLS to cover costs and transaction fees, professional design and developer services, and experienced Blockchain professionals to advise your project. If you are interested, join our Discord and speak to one of the team members!
Saturday, February 15th saw a number of new recruits joining the Helios Army. We would like to give a warm welcome to our new elite peeps who will be joining the ranks of other like-minded individuals earning big amounts of $HLS monthly! We are always taking applications for the helios Army, however, only on the 1st and 15th of each month do we open up the ranks for qualifying members. If you would like to learn more about the Helios Army and what it can do for you (hehe, pilfered), please join our Discord for more information!
The Esteemed Meme
The Quantum Jump of Blockchain
As you may already know, this section focuses on the mass adoption of Blockchain in all of our industries by way of positive, informative news stories that have graced our devices from the past week. It was previously entitled This Week in Mass Adoption, but considering the new bi-weekly status of The Helios Report, a fresh name for the section was in order! We will continue to enlighten and entertain you with the latest Blockchain news. This time we've got a whole lotta info to cover since last you were here! Banks and banks of banks and governments have turned to the Blockchain to improve themselves, the hemp, food, and green energy industries are booming, anti-piracy, pharmaceuticals, new Blockchain alliances, Visa is hopping on the train, and the US Air Force sees the light! We've got all this to cover and more so read it and (don't) weep!
Visa has revealed that they will be turning to a "tokenized" technology in order to make their network more secure. As reported by PaymentsJournal, "participants in Visa Token Service are estimated to process a combined e-commerce volume of $1 trillion". By tokenizing customers sensitive personal information, payments can be processed by a unique "token" instead of the customer's actual information. This adds a level of security to the Visa empire that is unseen in their competition but you can be sure that they will all be following suit shortly! The new system was started in the US in January this year and will continue to expand across the globe until everyone is securely secure!
According to a press release by the energy trading project, Power Ledger, they have secured a contract with Alperia SpA, one of Italy's biggest power companies. Out of over 230 different applications, they were chosen, along with 5 other projects as winners of the Alperia Startup Factory Innovation Camp. Alperia SpA will run a pilot with Power Ledger using their suite of energy trading products for their near 280k customers. The pilot will run to May 2020 with the possibility of adoption if the trial goes well! Good luck to the Power Ledger team!
Marshall County, Indiana's SIMBA Chain announced they secured a $9.5 million Air Force contract to encrypt the Air Force's messaging systems with Blockchain technology. In a first for the Blockchain industry, SIMBA Chain was awarded the 5-yr Small Business Innovation Research Phase III contract from the Naval Air Warfare Center in San Diego, CA. They will try to accomplish their cloud-based platform by providing "NAVWAR, communication system hardware and software, modernization and sustainment capabilities for both land and sea assets that play a role in undersea systems communication by connecting the Blockchain Fabric from seabed to space". The company will offer its Blockchain tech for securing messages, supply chain logistics, financial transactions, and data gathering to name just a few. This is a huge step for the United States government who, as history has shown, always seems to grasp the picture nearly too late.
Speaking of the US government, according to a post on the new SAM.gov, the replacement for FBO.gov which was the Federal Business Opportunities website, the US Department of Transportation's Federal Highway Administration is looking for help via new technologies. They are accepting applications through March 20, 2020, for proposals for mixing used plastic into asphalt mixes for highway construction and also for help in fixing the highway transportation issues using Blockchain and AI technologies. To be specific about the Blockchain request, they stated they were "investigating secure, real-time communication for connected vehicle applications such as (a) traffic operations that could include secure certificate management for vehicle-to-vehicle and vehicle-to-infrastructure applications, (b) freight data management that could provide government secure, anonymized data about routing and timing for the pickup, transfer, and delivery of goods to support more effective policy and public investment decisions, (c) secure and dynamic roadway asset information for optimizing routing or geofencing of roadway segments, or (d) highway pricing that could include dynamic and auction-based mechanisms". This will be a huge benefit to American roads and drivers alike! It will be exciting to learn what proposals are put forth. If we can glean that info, you can be sure we will report on it in a future issue of the Helios Report!
Citigroup and Goldman Sachs have conducted the first-ever equity swap using Blockchain tech. According to Forbes, the two banking powerhouses used the Axoni Blockchain to complete the trade. This is huge. Now, with the introduction of Blockchain tech to this particular industry, millions upon millions of dollars and working hours will be saved. Each party in the transaction is able to see the exact data in real-time, right there on the Blockchain. This will eliminate the need for "small armies to constantly check—and cross-check—every step of the process until the swap comes to maturity, sometimes months later". Currently, if the two parties' numbers don't match, these large groups of people must sift through all of the data to see where the issue is. This is the disruption of an industry here!
AB InBev, a union of beer companies which include Budweiser, Corona, Stella Artois, and more, is using Blockchain tech to help small farmers in Africa "prove that they are suppliers of the drinks giant" which in turn allows them to be able to open up a bank account and gain access to lines of credit. As reported by Yahoo Finance, AB InBev is teamed up with BanQu to bring this opportunity to the African farmers instead of importing the products they need. According to the article, this tech has "been implemented with thousands of farmers across countries such as Uganda and India".
In order to help combat content piracy, Dish network is turning to Blockchain technology. They have filed a patent with the US Patent office, which can be seen here, which will allow them to "better monitor and enforce ownership rights, alerting platforms to when content is used without permission." according to a CoinDesk story. The patent states the Blockchain tech is a "system that allows owners to embed an identification mark into the content's code that can be stored and regularly updated using a distributed ledger". This here could be another industry disruption in the making!
Billboard.com ran a cool story about music royalties and how they can be fairly distributed using Blockchain technology. Ditto Music, A global distributor of digital music and label services, announced that they have a new blockchain-based platform called Bluebox which will "generate higher earnings for artists and creators". The platform will work by recording the data from the studio work and "allow creators to instantly register copyright, publishing and mechanical splits at the point of creation". Need we mention disruption of an industry again?
The state of Vermont's Agency of Agriculture, Food & Markets has tapped the homegrown company, Trace to, well, trace Hemp from seed to product. As per the press release on the Vermont website, the VAAFM will "utilize the company's blockchain-based platform with a secure soil-to-shelf hemp registration, licensing and enforcement tracking system". All parties involved in the supply chain will be able to register online and/or on the Trace mobile Dapp which runs on the Ethereum network.
The Great (Lakes) State (of) Michigan's Neogen, which is based in the capital of Lansing, has announced via a press release, a partnership with the food supply company, Ripe Technology to "bring blockchain to food safety and animal genomics". John Adent, Neogen's CEO was quoted as saying, "Blockchain has tremendous potential throughout the food and livestock industries, both to verify the authenticity of premium products, such as cage-free eggs and enhance the traceability of issues that require correction, such as those that lead to product recalls".
A new Blockchain Alliance has been formed by IBM, Walmart, Merck, and KPMG called the Pharmaceutical Utility Network or PhUN (because PUN was no fun). The partners all participated in a pilot program held by the FDA to track and trace pharmaceuticals for DSCSA legislation according to a LedgerInsights story. The IBM team was quoted as saying, IBM stated, "PhUN takes an open-source platform-first approach — a similar concept to the Apple App Store — to empower stakeholders to comply with regulations and to use them as the basis for innovation". This Alliance will help combat counterfeit drugs and keep manufacturers and suppliers connected with instant, up-to-date information that can be trusted to be accurate.
The Military Manpower Administration of the South Korean military announced they will be turning to the Blockchain to keep track of its members' biometric data. "They [The South Korean Army] will be adopting a new biometric ID and authentication solution [TouchEn] designed by Raonsecure, one of the leading cybersecurity firms in South Korea." according to a Bitcoinist publication. The Blockchain-based ID system will be produced by Raonsecure and the Loop company from which the Icon (ICX) network hails from. The program uses public key cryptography which is the same tech that generates wallet recovery seeds and wallet addresses.
San Fransisco, CA-based Real Items Foundation is piloting a plug-in for the Spotify website that allows products to be verified as authentic using Blockchain tech. The plug-in generates non-fungible tokens (NFTs) that are backed by the physical assets the NFTs represent. People who purchase a product linked to an NFT can scan that item to verify its authenticity. David Menard, founder and CEO of Real Items Foundation was quoted as saying in a CoinTelegraph article, "We are trying to push consumer protection 3.0 by putting the tools in the end consumers' hands. There are no apps to download – consumers simply use their smartphones to scan a QR-code to verify the authenticity of an item. Consumers can also use WeChat to scan items to ensure that they are real".
Hey, Did Ya Hear That…
…Justin Sun finally had dinner with Warren Buffet?…………….
…JPMorgan is pondering merging their Blockchain into ConsenSys? Does Jamie still hate BTC?
…Canada Stablecorp has released the first CAD-backed cryptocurrency dubbed $QCAD? A good idea, eh?
…Binance X, KuCoin, NEO, Quantstamp, IoTeX, Xpring, and Mastercard joined the Blockchain Education Alliance? Them's some big names, Pahdnah!
…Australia is ready to finally release its Blockchain roadmap? Let's see what a year of prep can do!!!
…an Indian government-sponsored think tank has released a strategy for a national digital currency? The news just keeps poppin'!
…Cambodia is ready for a national digital currency of its own? Go, Cambodia, Go!!!
…the Department of Health and Human Services is set to save $30 million over the next five years thanks to Accelerate? They're the first Blockchain-based program in the Federal government to receive the authority-to-operate!
…the British government has put a stop loss on 86,000 $BTC linked to those pesky ransomware issues? Game, set, match!
…Bitcoin Gold got hit with a 51% attack not too long ago? Maybe call it Bitcoin Tin instead?
…regulators in Israel have called for feedback on a Blockchain-based solution for the country? They sure get it in Israel!!!
…Vertalo has ditched the Ethereum network? On to Tezos for Vertalo…
…Singapore has clamped down with AML restrictions on cryptocurrency companies? Booooooooooooooooooooooooooooooooooooooooooooooooooo!
…Lancashire Cricket will be the first in the UK to sell Blockchain-based tickets on mobile devices? Yayyyyyyyyyyyyyyyyyyyyyyyyyyyyyyyyyyyyyyyyyyyyyyyyyyyyyyy
…the UK Tax Authority wants to use Blockchain tech to catch crypto baddies? It'll definitely make their jobs easier, Blockchain will!
…a subsidiary of Cardano is to help Uzbekistan form a Blockchain task force? Coool!
…Monerium will issue e-money on the Algorand chain? They should've used Helios 😉
…over 1000 licenses for mining crypto have been issued in Iran? Interesting…
Share, Earn, Repeat: The Bounties
Start a Meetup | Bug Bounty | Article
DApp Share | Avatar | Daily Task | BitcoinTalk Daily
Online Video | Meme | Social Influencer | Referral | Coding Contributions
They Love Us, They Love Us Not
Discord: 12,422
Twitter: 6,288
Flote: 180
Reddit: 61
YouTube: 87
Uptrennd: 87
Telegram: 3,952
Facebook: 672
Latino Twitter: 202
Filipino Twitter: 23
Latino Facebook: 629
Cuff Links
Website I Github I Discord I Twitter
BitcoinTalk I Reddit I Twitch I Uptrennd I Flote
Telegram I Facebook I YouTube I Trybe I Instagram
Twitter – Latin American I Twitter – Russian I Twitter – Filipino
Latin American Facebook I Uptrennd Sign-Up I qTrade-HLS/BTC
Atomars-HLS/BTC I Atomars-HLS/ETH I Atomars-HLS/USDT