By: Daniel Thwaites Sr.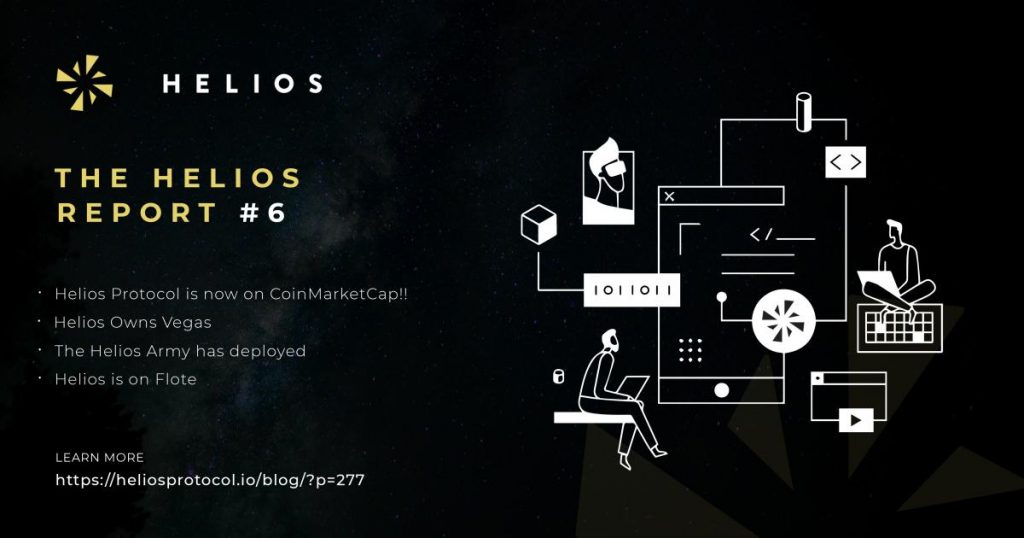 What's What in the Heliosphere
Another warm weekly welcome is in store! It is time to regale you with the sixth edition of the Helios Report. This week has been a whirlwind of networking and adventure! Helios Protocol came, saw, and owned World Crypto Con, the Helios Army has been deployed on their first mission, $HLS + CMC, and Flote is our newest front! Keep that radio tuned right here for more…
Blockchain Week was a huge success for us this week. It was a pleasure networking with some of the industry's heavy hitters and speaking of possible future collaborations. We were able to promote our project to some big influencers and in turn learned a lot about new things on the horizon in the Cryptosphere. More to come on that in the future!
The Helios Army was recently deployed on their first mission. So far enlistment has been growing fast and we have an amazing group of members out spreading the word about Helios Protocol and the technology we have to offer the world. If you haven't heard of the Helios Army yet, it is a group of our most loyal and dedicated community members who perform specific tasks each month and in return receive huge rewards. More info can be found here!
We have finally made it on to CoinMarketCap!!!! We are very excited to be listed on this #505 Alexa-ranked website! Soon you will be able to check all of the relevant data associated with $HLS!
We are also thrilled to announce we now have our own page on Flote! For those of you who haven't heard of Flote, they are a great Crypto Social Network that has Twitter shaking in its boots. Think new home for Crypto Twitter where content providers are rewarded for their efforts. Users of Flote get their own built-in, easy to use Crypto wallet for fee-free P2P payments. All types of media are allowed including audio, video, images, and text. Users can also live stream and host superchats!
Bounty Hunter of the Week: @Maxn76
Congratulations to our Bounty Hunter of the Week, @Maxn76!!! For your hard work and dedication this past week you will be receiving a 50% bonus on your bounty reward! Thank you to all who submitted bounties!! Keep 'em rollin' in and next week it may be YOU who gets the bonus!!!
Meme of the Week:
This Week in Mass Adoption
Mass adoption is the biggest goal the Blockchain community can achieve. Every week there are more examples that it is near, this past week being no exception. There was great news from the Internet of People ($IOP), more big news out of China, land registries, blockchain phones, seafood becomes see food, and now you can stay and pay with more crypto through Travala! Details after these three dots…
Internet of People ($IOP) has announced on their Twitter page that their first real use-case has been achieved. IoP has signed a contract with Mexican University, Universidad Autónoma de Nayarit (UAN) for a digital identity solution. UAN has 30,000 students that will use the DID system powered by the IoP Blockchain. The program begins in 2020.
The People's Bank of China (PBOC) has been reported to have been studying a national digital currency, DCEP or Digital Currency Electronic Payment, for the past "five or six years". This is according to Huang Qifan, the executive VP of the China International Economic Exchange Center. This will in all likelihood, spur on a mad rush of other nations creating their own national digital currencies. Only time will tell if this spells the beginning of mass adoption or the end of our freedom from The Suits' interference!
The Inter-American Development Bank (IADB) is working on a two-year project in Peru, Bolivia, and Paraguay to put land registries on the Blockchain. As reported by CoinDesk, the IADB has teamed up Bolivian IT company Jalasoft and ChromaWay, a startup out of Stockholm, Sweden focusing solutions for financial institutions and governments. Land registries and payments on the Blockchain would be a certain step in the right direction for use-case arguments!
Samsung has announced they will be integrating Tron into the SDK of the Samsung Blockchain Keystore which, as stated on the Samsung developers website, "puts consumers in control of their data by providing a platform to consolidate and easily manage private information and digital keys with vault-like security". Blockchain tech is growing at a fast pace and the next generations of Blockchain-enabled smartphones will be key in the mass adoption charge.
Fortune has reported the SEC will allow three major brokerages to settle stock trades using Blockchain tech. Credit Suisse, Société Générale, and another brokerage will utilize technology from the tech startup company Paxos based out of New York. This will dramatically reduce the time needed to settle these stock trades by a significant amount. Blockchain tech is even helping out its little brother, the Stock Market. This already has huge implications.
Another seafood company has announced they will be using Blockchain tech to track and trace their products. BusinessWire has said Mastercard is teaming up with Envisible to bring food traceability to the Blockchain.  Envisible's Wholechain tracing system will utilize Mastercard's Provenance Solution which is also used to fight the counterfeiting of luxury goods. Topco Associates LTD, a member-owned food consortium which includes Food City, will be the first to pilot the program to trace it's seafood supplies.
Hotel booking website Travala announced it will now accept Cardano ($ADA) and Stellar ($XLM) for hotel bookings. These payment options join other Cryptocurrencies $BTC, $ETH, $BNB, $BCH, $XRP, $LTC, $TUSD, $TRON, $NANO, $WAVES, $XZC, and their native $AVA token. It seems that more options for payments are showing up every week!!!
Hey, Did Ya Hear That…
…patch 1.1 is out for the awesome Flowerpatch DApp? The patch has MANY new upgrades and includes two new particles for the strain editor!!! Annnnndddd….
…winners were announced for the Flowerpatch Halloween contest? Join their Discord already!
…the Bitcoin Whitepaper turned 11 this week? Happy birthday $BTC 😉
…traders on KuCoin will soon have access to margin trading? That's marginally exciting…
…Binance is going to open offices in Beijing? Cue the explosion emoji.
…Huobi will freeze all American accounts by the middle of November? Booooooooooooooooo
…the first birth certificate to be recorded on the Blockchain was registered in Brazil? And it starts…
Share, Earn, Repeat
Start a Meetup | Bug Bounty | Article
DApp Share | Avatar | Daily Task | BitcoinTalk Daily
Online Video | Meme | Social Influencer | Referral | Coding Contributions
They Love Us, They Love Us Not
Discord: 11,953
Flote: 26
Twitter: 7,320
Russian Twitter: 48
Filipino Twitter: 11
Uptrennd: 25
Reddit: 52
Telegram: 4,445
Facebook: 452
Cuff Links
Website:
Github:
https://github.com/Helios-Protocol
Discord:
Uptrennd:
https://www.uptrennd.com/signup/NTg1OA
https://www.uptrennd.com/user/heliosprotocol.io
Flote:
https://flote.app/HeliosProtocol
Trybe:
Facebook:
https://www.facebook.com/HeliosProtocolPlatform/
Latin American Facebook:
https://www.facebook.com/HeliosProtocolLatino
Twitch:
https://www.twitch.tv/heliosprotocol
Telegram:
Instagram:
https://www.instagram.com/heliosprotocol/
Reddit:
https://www.reddit.com/r/heliosprotocol
Bitcoin Talk:
https://bitcointalk.org/index.php?topic=4317054.0
Atomars:
https://atomars.com/trading/HLSETH
https://atomars.com/trading/HLSBTC
https://atomars.com/trading/HLSUSDT
qTrade: